This course is designed for anyone who's involved in projects, it doesn't matter if you are a project leader, scrum master, project owner or any other project team member.
My long lasting experience in project management showed me that poor communication is one of the main factors why projects fail.
Stakeholders and other project members do not get the right information, they are flooded with unimportant information and bullet points or they just don't understand the whole context.
This is the point when visual thinking comes in handy!
I made the wonderful experience that even the smallest sketchnotes, visual presentations, hand drawn templates or simple visual scribbles on a whiteboard or flipchart lead to much more clarity, common understanding and huge aha moments.
In the first part of this course I will show you the very basics of drawing. So you see this is for everyone, even for those who say they could not draw – although this is not true ;-).
In the second part you will learn where you can apply your newly acquired visual powers in your projects for a more effective communication and facilitation.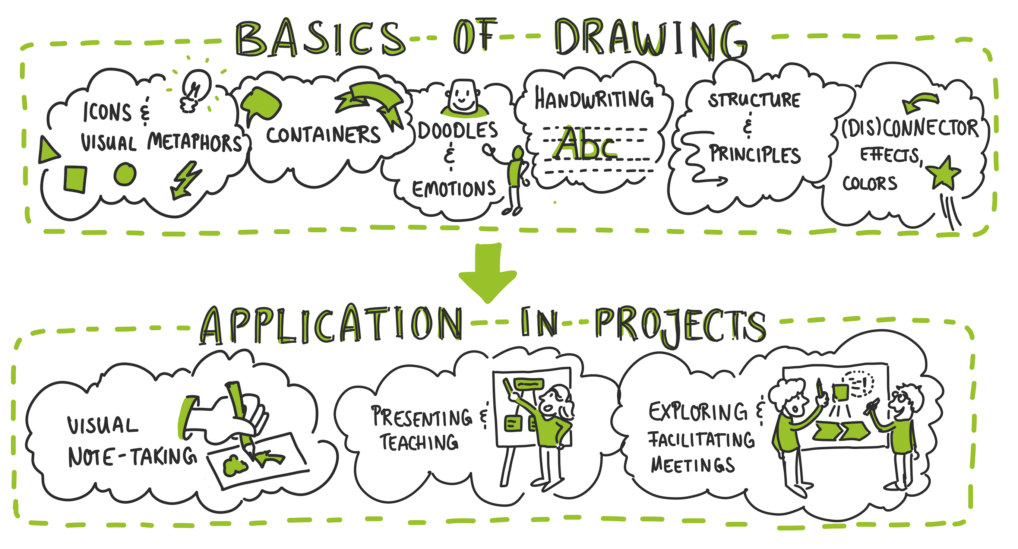 This online module is for you if…
you are new to drawing but already know that clarity is missing in your projects

you are really motivated to integrate visuals in your project

you want to gain confidence with a pen in your hands

you already fancy with using drawings but simply didn't know how yet
What will you learn? Sketching your projects will…
allow you to understand the basics of any visual work

speed up your and your team's recognition of patterns and dependencies

help you extracting the essentials from a meeting, discussion or decision

give you a powerful tool to access your and your colleagues' full brain power

bring back fun at work
4 live online modules based on each other

1 exclusive group for exchanging and supporting

1 stick-to-it buddy for cross motivation

Exercises during the session and homework for digesting

1 Marker-Starter-Set just for you

Small working group
18.06.2020 09:00 – 10:30 CET
22.06.2020 09:00 – 10:30 CET
25.06.2020 09:00 – 10:30 CET
29.06.2020 09:00 – 10:30 CET
Sorry, too late!
If you are interested about SketchYourProject please contact me regarding further online courses.